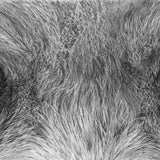 UNTOLD STORIES - ARCTIC WOLF - ARTWORK CARD by KEVIN JOHNSON
-------
ORIGINALLY FROM LONDON, ONTARIO, CANADA,KEVIN'S BOYHOOD PURSUITS INCLUDED SPORTS, THE OUTDOORS AND CAPTURING HIS WORLD IN DRAWINGS AND PICTURES. AFTER GRADUATING FROM HIGH SCHOOL, KEVIN TRAVELED THE WORLD WITH THE CANADIAN ARMED FORCES. HE TOUCHED DOWN IN MANY LANDS SUCH AS ITALY, ENGLAND, AFRICA, CYPRUS, PAKISTAN AND GERMANY TO NAME A FEW.
THROUGHOUT HIS LIFE, KEVIN HAS CREATED ART USING MANY DIFFERENT MEDIUMS–OILS, ACRYLICS, WATERCOLOURS, PASTELS AND GRAPHITE. WHILE STATIONED AT CANADIAN FORCES BASE TRENTON, ONTARIO KEVIN RAN A CUSTOM AIRBRUSHING BUSINESS AND TAUGHT AIRBRUSHING TECHNIQUES THROUGH THE LOYALIST COLLEGE. AN AUSPICIOUS POSTING TO CFB COMOX, BRITISH COLUMBIA BROUGHT TOGETHER THE PERFECT ELEMENTS FOR KEVINS DEVELOPING SKILLS: AN EMERGING LOVE OF WILDLIFE ART AND THE NATURAL RUGGED BEAUTY OF THE WEST COAST. IT IS HERE WHERE NATURE'S SPLENDOR HAS BECOME THE INSPIRATION FOR MANY OF HIS WORKS OF ART. BEING SELF-TAUGHT TOOK MANY LONG HOURS SITTING AT HIS DRAWING BOARD AND HAS LEAD TO HIS NEW FOUND APPRECIATION OF THIS LIFELONG LEARNING PROCESS. AS A NOW DEDICATED PENCIL ARTIST, KEVIN HAS ALWAYS LOVED THE FREEDOM, SIMPLICITY AND RANGE OF THE PENCIL MEDIUM. HE STRIVES TO CREATE PHOTO REALISTIC DETAIL IN HIS PIECES. THIS IS ACCOMPLISHED IN THE TOTAL ABSENCE OF COLOUR BY RELYING ON THE TEXTURE AND TONAL VALUES OF THE SUBJECTS.
RETIRED FROM THE CANADIANFORCES, KEVIN NOW RESIDES ON BEAUTIFUL QUADRA ISLAND, BC LOCATED ON THE NORTH EAST COAST OF VANCOUVER ISLAND, CANADA. BEING AN AVID PHOTOGRAPHER AND KAYAKER, HE NOW LOVES TO TRAVEL WITH HIS WIFE JO-ANNE GATHERING PHOTO REFERENCE TO BE USED IN HIS WORK. 
KEVIN'S ARTWORK HANGS IN PRIVATE COLLECTIONS ACROSS CANADA, USA AND THE UK. 
Free shipping on orders over $200
UNTOLD STORIES - ARCTIC WOLF - ARTWORK CARD by KEVIN JOHNSON